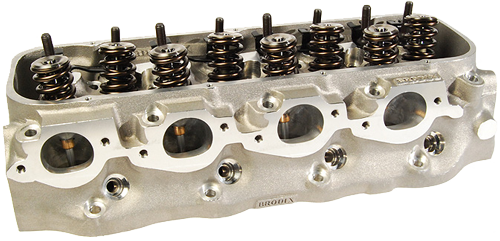 RFD Brodix BB-2
Price: $4,150
Price is for complete set
The Brodix BB-2 casting has been a great platform for RFD to build several applications on. This is our small bore and Marine head, and we have several versions. Several engine builders rely on our Marine version for the basis of their builds, N/A or blown. RFD has countless hours of flowbench, dyno and track time in developing the cnc programs for this head. It performs as well as you would expect from the best in the business.
Cylinder Head Specifics
| | |
| --- | --- |
| Bore: | Not Specified |
| Intake Valves: | 2.3" |
| Exhaust Valves: | 1.88" |
| Flow: | Not Specified |
Upgrades Available
** This is just an estimate, not a price guarantee.
Other Specs
117 cc chambers
325, 340, 350 cc intake ports
Typical flow is 435 int 310 ex
Ductile Iron valve seats
PAC double roller valve springs good for .850″ standard
Titanium retainers and 10* locks.
Guide plates included for 3/8 pushrods.