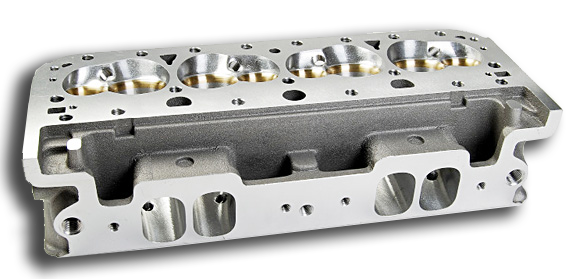 RFD 1213 Wedge SBC
Price: $4,850
Bare with bronze seats
The Brodix 1213 is the most powerful wedge cylinder head available today, PERIOD!

Custom Brodix castings produce a very robust casting for our CnC machine to do it's magic. And that magic is all done in-house, designed and programmed by the same person who designed the ports. This is one we are very proud of. The flow numbers are incredible for a wedge head, but the port isn't big, slow or lazy. The opposite is true. This head has very good airspeed and is far from lazy and will recover well off the shift.
We have several versions of this head available with ports designed for circle track, dirt late model, sprint car, road racing and drag racing.
Cylinder Head Specifics
| | |
| --- | --- |
| Bore: | 4.125+ |
| Intake Valves: | 2.22"-2.27" |
| Exhaust Valves: | 1.58"-1.62" |
| Flow: | 450+ |
Upgrades Available
** This is just an estimate, not a price guarantee.
Other Specs
A 356 T-6 Aluminum
Ductile Iron Valve Seats
12.5º intake 13.5º exhaust valve angles
Bronze Alloy Valve Guides
Requires Custom Intake Manifolds
Requires Shaft Rockers
42cc Chambers
Several port sizes available
Each set custom built to your application